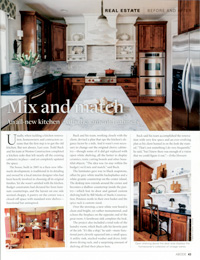 Todd Buck and Weston Construction were featured in the March issue of C'ville Weekly's Abode Magazine for a renovation project they did for Interior Designer, Sandy Muraca. You can see the article on C-ville Weekly's website here (or click on the image at left to download a pdf). Weston Construction worked closely with this client to create "an all-new kitchen with the same old cabinets".
Rather than gut the entire kitchen, the original cherry cabinetry remained, although some of it did get replaced with open white shelving, to display the homeowners collection of beautiful objects. The original countertop laminates gave way to black soapstone, offset by grey-white marble backsplashes and a white granite countertop on the center island. The desktop now extends around the corner and becomes a shallow countertop inside the pantry. Over the stovetop, a new white vent hood is clean and bright, yet rather monumental, and echoes the fireplace on the opposite end of the great room. A farmhouse sink completes the look.
Article by Erika Hawsare, photos by Andrea Hubbell.
12/13/14